23 февраля росийский прокат вышел фильм "Челоек-волк»/The Wolfman, в котором Энтони Хопкинс сыграл роль Джона Тэлбота / John Talbot. Так получилось, что я встречалась с Энтони Хопкинсом трижды во время продвижения этого фильма – однажды для эксклюзивного интервью, и дважды за «круглым столом»:(Энтони Хопкинс: «Я достиг чего-то вроде счастья», № 246, 30 Декабря 2009г.; Энтони Хопкинс: «Жизнь – это мечта»). Этот отрывок нашей беседы за «круглым столом» показался мне очень любопытным, и я решила дать вам возможность прочитать его в оригинале, тем более, что я не переводила его на русский ни для одного из своих опубликованных интервью с ним. Лично я изменила свое мнение о Хопкинсе после его откровений в отеле Four Seasons в Beverly Hills, и посмотрела на свою жизнь под его углом зрения – выводы получились те же самые.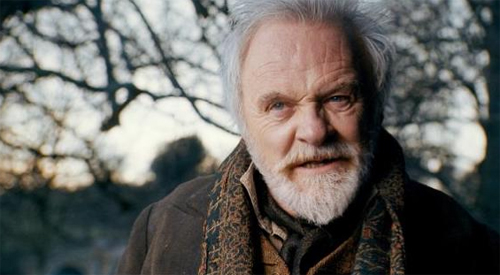 "Life is hard and you have to be tough to survive. So that's my credo"

Q: And once more you played a monster and you do it so well again.
ANTHONY: Well, I've only ever played two but…
Q: Okay, but these stay on our memories very strongly. Is there something that makes you play monsters well, do you understand them?
ANTHONY: No, I think in this script…there was one line in the story, in the script that I took as a central point of the character. This is the beginning of the film and Lawrence, my son, comes back after 20 years and I say to him within a few minutes, I say, "Your brother's body was found this morning, do you have the right clothes for the funeral?" Absolutely, totally cold. And I think that's very real. You know, fathers and sons have very complicated relationships. You look through the whole of human literature from Greek tragedy, right through Dostoevsky, Arthur Miller…
Q: And the killing of the father is...
ANTHONY: Yes, and my father was like that. Not cold like that but, you know, fathers are very disappointed in their sons, many of them. And there is a lot of rivalry at some subconscious level. So this is based on reality. So I took that coldness right the way through. I learned that from my own and I'm good at playing that because I have a hard streak in me. I'm pretty tough.
Q: Of coldness?
ANTHONY: Yeah. I'm a pretty warm person. I'm friendly but I don't have time for people who complain. You know, they're yes people, they say but you know. I don't have time for that. I'm very tough. I don't have many friends but I have a few friends but I don't hangout with negative people. I'm tough. There is so much talk and people want to categorize everything. What I say to people is, "Stop talking, just get on with it."
Q: Have you always been tough?
ANTHONY: All my life.
Q: As a child, do you think?
ANTHONY: Yes, yeah.
Q: Are you robot like?
ANTHONY: Yeah, I was remote. I was the only son and my father was…I loved him but he was tough. And he despaired of me when I was a child because I wasn't very good at school. But he became, you know, he was pleased with my success and all that. I think it's a universal thing it's not just me. It's a universal thing between fathers and sons. There is always a tremendous rivalry unless they're very normal.
Q: The same for fathers and daughters or mothers and…?
ANTHONY: I have no idea about that. That's different… But that's how I played the part of a man who has no pity, no time. Because, you know, people especially in America, we want to categorize everything. They say, "Why do you do this? Why do you choose that part? Why do you…?" I don't know. Life isn't regular. Life is offensive and so is death. You know life isn't sweet. But in America, we always want to dress it up. Life is hard and you have to be tough to survive. So that's my credo. That's how I work as an actor. Maybe that's why I'm a good actor because I don't waste time. Get on with it. People find me a little intimidating but I'm very friendly. I like working with people. I respect the film crew. I have total and respect for people. I really respect people. If they say that, "Well, yes, but its okay, fine." In England, people say yes but we can't do it. In America, you can do anything!

"I had a friend for many years who he never did anything"

Q: So you have little patience maybe?
ANTHONY: No, I'm okay. I'm more patient than I used to be, much more tolerant. But, I had a friend for many years who he never did anything. He expected other people to do it for him. But he always criticized everyone else. He criticized me but he couldn't do anything. So one day, recently I said, "Bye." I couldn't put up with him anymore.
Q: Did you explain to him?
ANTHONY: No, I didn't but he knew damn well why because he'd been, he had a sense of entitlement but he complained and criticized everyone, criticized me but he never did anything for himself. So I said…that's like being with somebody who is ill or someone with a contagious illness. And it gets into your… you know, if you hang around with negative people, you start feeling guilty because you feel happy. So you have to stay away from them. It's like starting a forest fire. I know a guy here in Los Angeles and I used to be…because I'm a very kind generous guy. He said let's have breakfast one day. I go out and have breakfast with this guy and I would feel like committing suicide at the end of it because he was so miserable.
Q: And he was taking you down?
ANTHONY: Yeah, willfully miserable. So one day, I said, that's it, no more. I don't waste time because life's too short. I've got a good life.
Galina Galkina