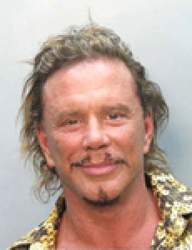 Не зря в народе говорят: «Хочешь выучить иностранный язык, спи с переводчиком». Прежде, чем сыграть русского, Микки Рурк встречался с русскими девушками, и в отношении одной из них у него даже возникли серьезные намерения. Но он также побывал в Москве, и еще брал уроки русского языка у моей хорошей знакомой, которая натренировалась на Деми Мур и других актерах, сыгравших русских в голливудских фильмах. Но Рурк оказался одним из самых способных учеников».



«I met a guy who just got out of prison after 13 years there... It was in Moscow»

THERE ARE SOME GREAT GIMMICKS WITH THE TATTOOS, THE TEETH – WERE YOU INVOLVED IN DEVELOPING THE WAY YOU LOOKED?
Yeah. Um… God, I… John showed me some drawings. They did some really nice illustrations of the character. And uh… Forget the candy bar. This is good. So, it… I don't know if the tattoos were there or not. I think he mentioned them and then I did a whole bunch of research and picked each of them out because of the significant meanings. And when I was over in Russia, all the books that I had. And… I met a guy who just got out of prison after 13 years there and… He was a… It was in Moscow. He came up to my hotel room. Took all his shit off and showed me what everything meant. And then even pulled his pants down. He had these eyeballs tattooed there. And I was, "What do those mean?" He goes, "I'm looking over things." I go, "God, I gotta have that."

And then like he had a little tiny tattoo. And then all these eagles and shit and stuff. And the worst tattoo he had was a little tiny one. Didn't say what that meant. So, I tried to incorporate all that stuff into it, you know.

AND THE [PARROT?] WHY? THE BIRD? WHY?
Because he's alone. He's working all the time by himself and he doesn't… He's not a social person. And I thought it would be nice if… like, a cat can't talk to you. Maybe he could talk to the bird. And the bird could say other things to him and… Keep him company, you know. Especially-


YOU KNOW FOR PREPARATION AND YOU LEARNED RUSSIAN FOR THE MOVIE. WHAT ELSE DID YOU DO TO PREPARE?
Nothing.

YOU WENT TO THE PRISON-
I went to the prison in Moscow, yeah. And of course they showed me the cleanest prison they have.

And you know, I was also told how the prisons are different outside in different zones, you know. Um… They had a great bakery there. A really great bakery.

IN THE PRISON?
In the prison, yeah. And then the guards all play ping-pong. You know, so, they played ping-pong with the guards and… And then when in and met the prisoners. But the most interesting thing, really, was meeting the one prisoner who just got out after 13 years and seeing his different tattoos. And also, um… He was very… I noticed he was very still with his movements. And physically, he was just very deliberate. He wasn't like all over the place. He was… He said what he said and it was… You know, he just moved… He just kind of moved kind of slowly through everything. You know, he took everything in. And when he looked at me, like, it's almost like he… he looked through me, you know.

Um… There was just something very solitary about him. I guess from maybe being in prisons for so many years that… Um… I think… I'd ask him a question and it almost… He knew almost what I was going to ask him before I asked him the question.

YOU GAVE THE FILM AN EDGE. DON'T YOU THINK?
I didn't see the fil… I don't know. You know I read my character. I didn't read a lot of the other stuff too clearly. I have no idea what's in the movie or what it's about to be honest with you.

IS THEN THE WAY YOU ALWAYS OPERATE?
Pretty much.

OK, SO IT WORKS FOR YOU?
Yeah, because I kind of don't want to know what's going on. It's like in life. I don't know what you, you know, he could get up and freak out right now and pull his pants off. I'm not going to know that. So I like to leave a little room open for the unexpected. And not have in, in my head, it's supposed to happen like this.

AND YOU STILL HAVE THE [BIRD?]-
I still have Sonny. My bird's name is Sonny Boy.

AND WHERE IS HE IN THE HOUSE?
He is behind the couch, next to the TV. Cause he likes to hear all the chatter.

DOES HE TALK?
Yes he does.

WHAT'S YOUR FAVORITE SHOW?
He says one really bad word.

ENLIGHT US.
I can't say it.

WE'RE EUROPEANS WE CAN TAKE EVERYTHING.

[TALKING OVER]
Oh no, you won't like this one.

OH YES.

IT'S THE ONLY WORD HE SAYS?
Yeah.

WHAT LETTER DOES IT BEGIN WITH?
Uh-uh… I want to work for the next 20 years.

AND WHAT IS THE RELATION WITH THE DOGS?
The relationship with the dogs is great. It's just I miss the one dog and I'm having a very hard time… I do love all the other dogs, but this one was like special. I can't replace her.

IS IT TRUE THAT IF YOU DON'T GET ENOUGH LOVE FROM PEOPLE YOU LOOK FOR LOVE BY ANIMALS?
I don't know. I don't see why not though. I mean I… There's… I'd much rather be with the dogs than some people I've met. So I mean, you know… And then I'd rather be with some people I've met just as much as a dog. So I can't… I don't know how to do it. It depends on, you know… Um… I don't know.

SCARLET JOHANSSON MENTIONED THAT SHE THINKS THAT IT'S EASIER FOR A MAN TO HAVE A COMEBACK, AN ACTOR THAN FOR A FEMALE ACTRESS-
I think [probably much ?] the business is much easier for men than it is women, you know. You can take a woman that you know is real hot as a pistol, is a really great actress in her 20s and it's going to be very hard for her in her 40s. Cause the society is all geared around young pussy.

YOU CAN SAY THAT, DON'T WORRY.

LAST QUESTION…

DO MEN BECOME MORE INTERESTING AS THEY AGE?
I think a man might have made that up. I mean, I don't think so. But… I think a man made that up. A man who's getting older (laughs). Yeah.